Lake Conroe Historical Sites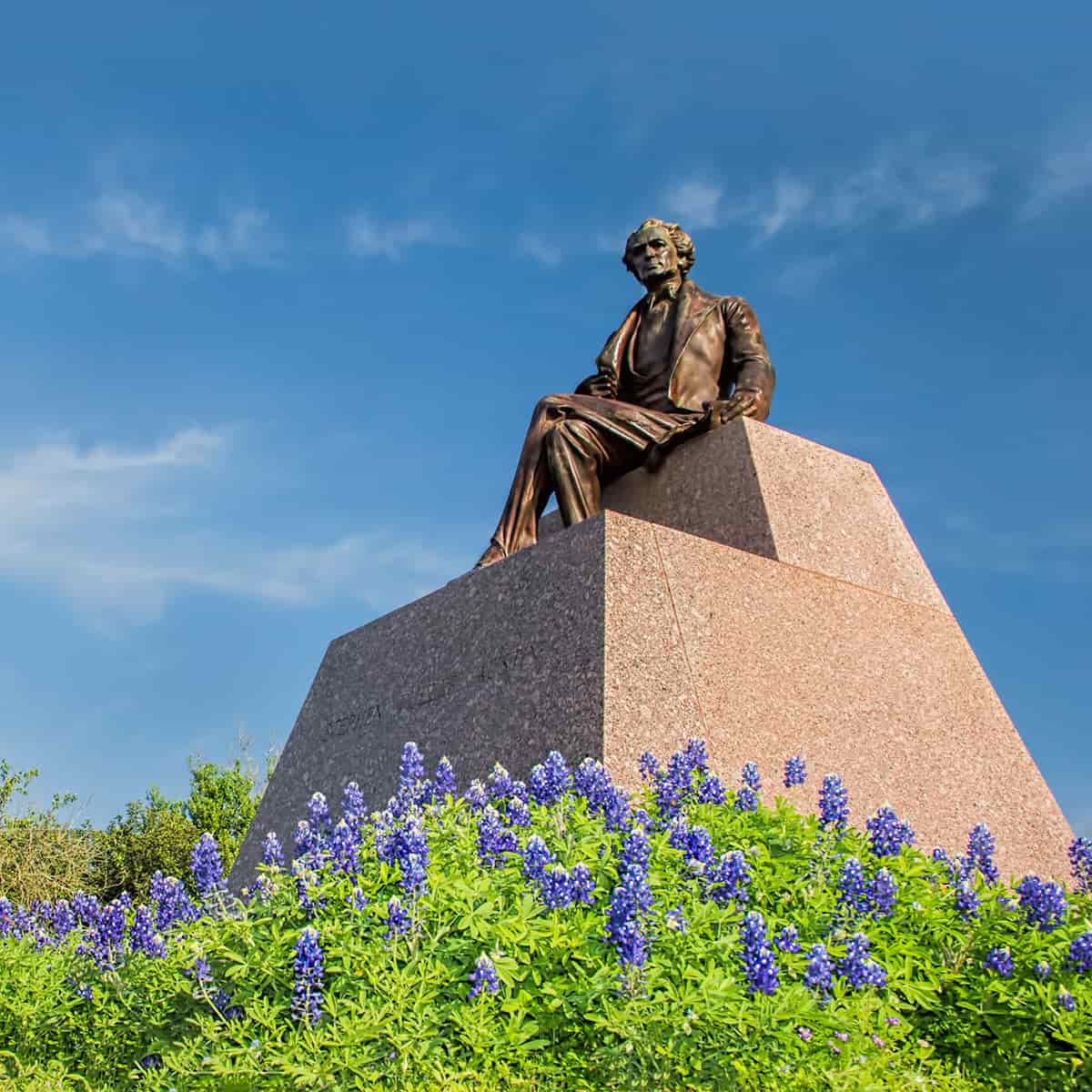 San Felipe de Austin State Historic Site
In 1824, pioneer Stephen F. Austin, the "Father of Texas," founded the colony of San Felipe de Austin in Mexican-controlled Texas. Burned in 1836, the town of San Felipe de Austin was evaluated, but later rebuilt. Today, San Felipe de Austin boasts a modest population of just over 700, and possesses the oldest post office and zip code in Texas.
This historical site and museum offers visitors the opportunity to immerse themselves in the history of Texas prior to its independence. San Felipe de Austin State Historic Site features a remarkable bronze statue of Stephen F. Austin as well as an obelisk and log cabin. Activities include picnicking, camping, fishing, hiking, golf, and nature and historical tours.
Location:
220 2nd St.
San Felipe, TX 77473
Hours:
Open daily
9 am - 5 pm
Admission:
Adults - $10
Children (5-14) - $5
Seniors & Veterans - $8
Visit website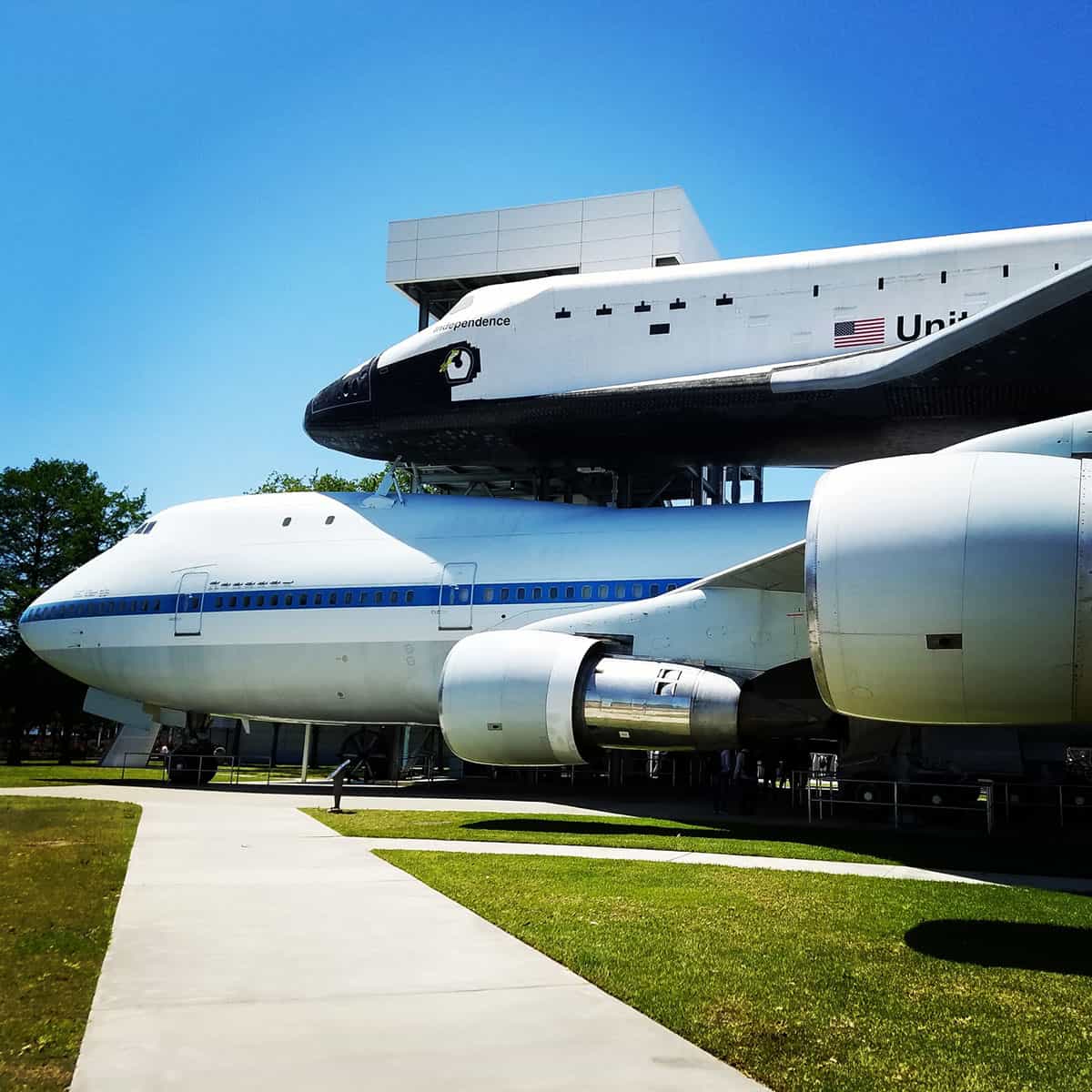 Space Center Houston
Ranked Houston's #1 attraction for international visitors, Space Center Houston is the perfect destination for educators, students, and families alike. The 250,000 square foot museum features incredible exhibits, including over 400 space artifacts, and educational theaters that explore the history and future of America's space program.
According to Space Center Houston's website, since opening in 1992, the center has hosted over 20 million people, including more than one million visitors each year.
Location:
1601 NASA Pkwy
Houston, TX 77058
Hours:
Open daily
10 am - 5 pm
Admission:
Adults - $29.95
Children (4-11) - $24.95
Children (under 3) - FREE
Seniors - $27.95
Visit website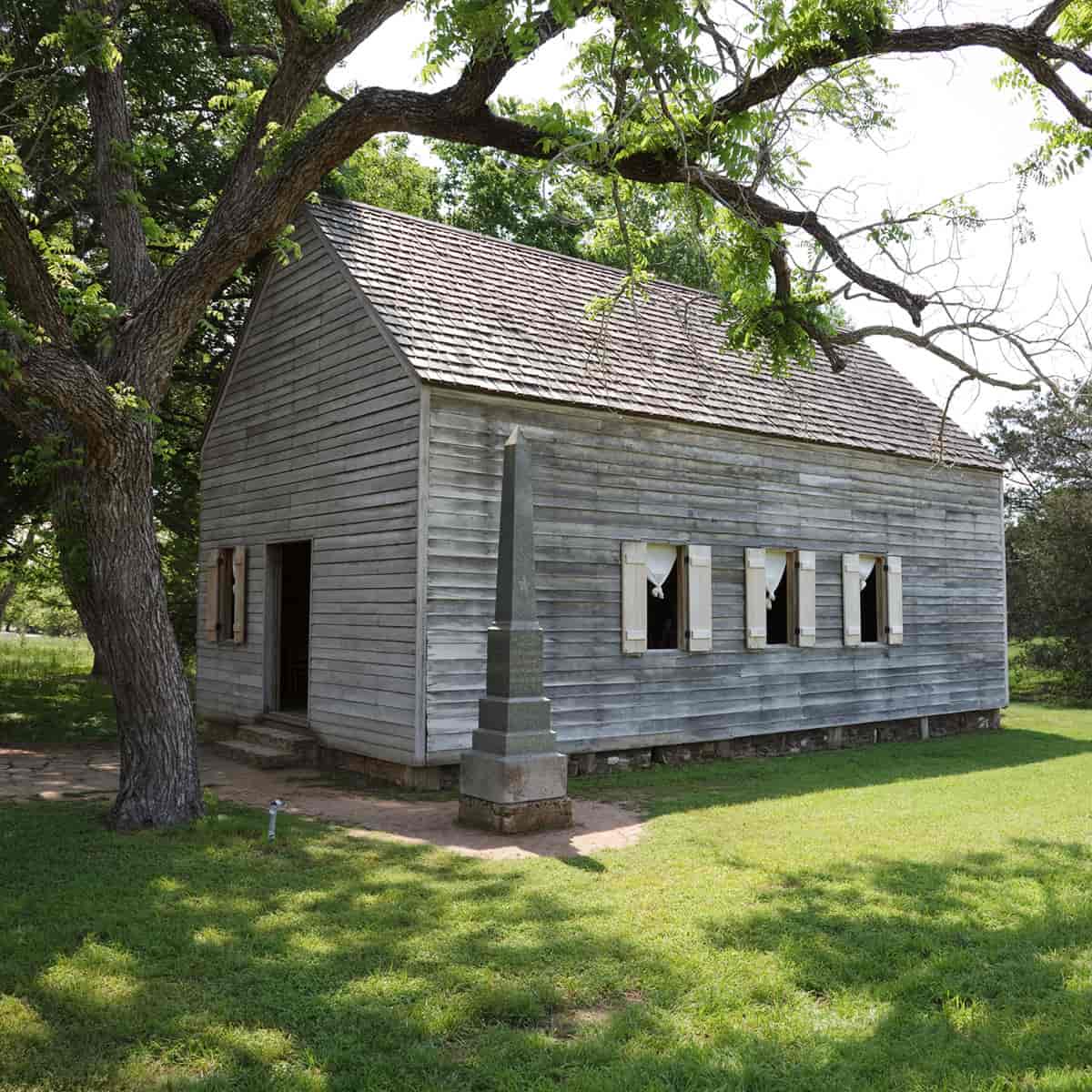 Washington-on-the-Brazos State Historic Site
On March 2, 1836, delegates signed the Texas Declaration of Independence at Washington. Later, they would draft Texas' constitution and create its government as we know it today.
Located on the Brazos River, Washington-on-the-Brazos State Historic Site encompasses vast park grounds that are ideal for sightseeing, picnicking, and a casual getaway. History lovers can explore Independence Hall, the Star of the Republic Museum, and Barrington Living History Farm.
Location:
23400 Park Rd 12
Washington, TX 77880
Hours:
Open daily
8 am - sunset
Visit website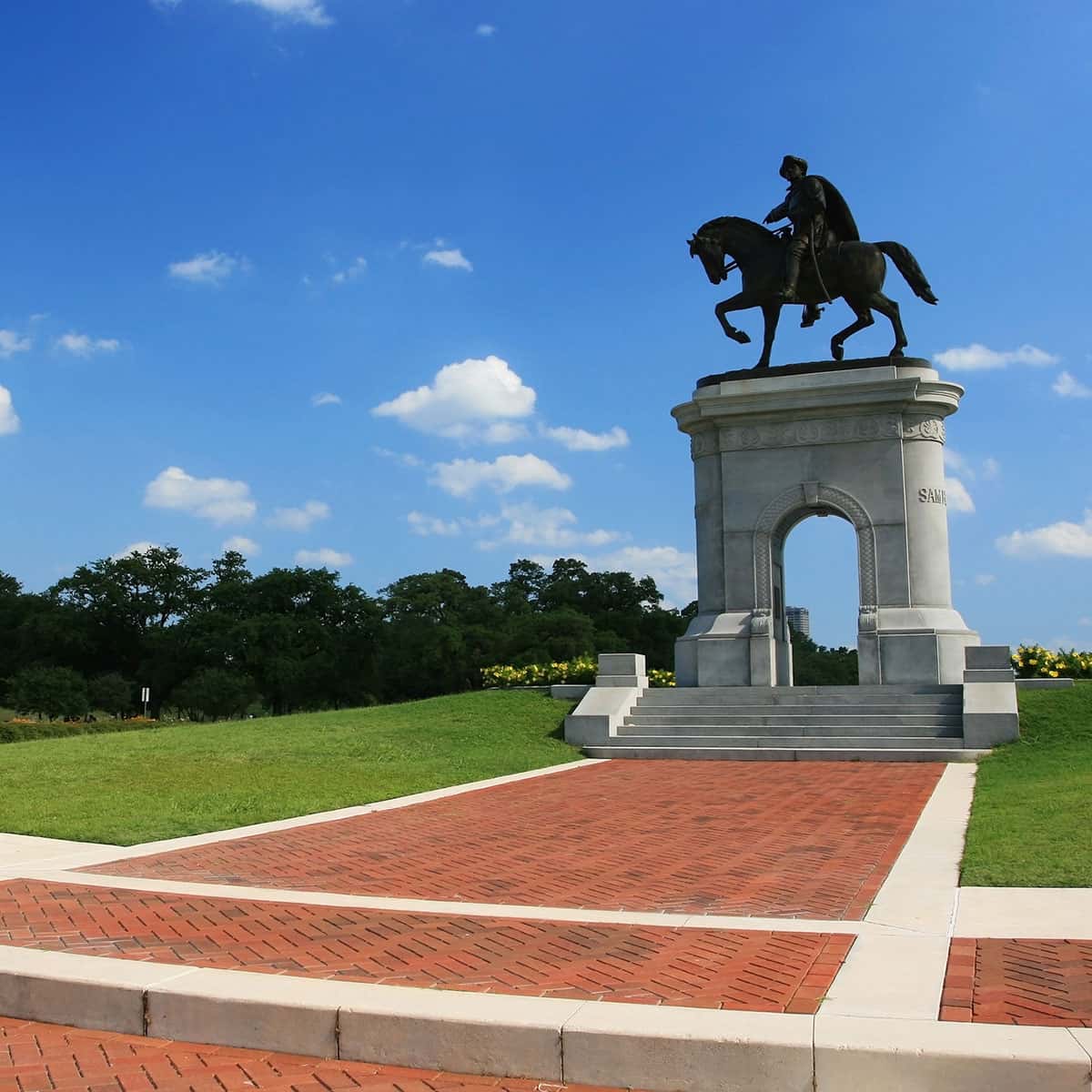 Sam Houston Monument
From the official website:

"On March 1, 1917, an article appeared in the Houston Chronicle calling on Texans to come together and raise the money necessary to erect a monument commemorating Texan hero and statesman, General Sam Houston. The Women's City Club raised the funds for this monument and commissioned Enrico Cerrachio as the sculptor. He is shown on horseback leading his men into the battle of San Jacinto, which the monument is positioned to point towards."
Location:
2999 South Wayside
Houston, TX 77023
Hours:
Open Mon - Fri
8 am - 5 pm
Visit website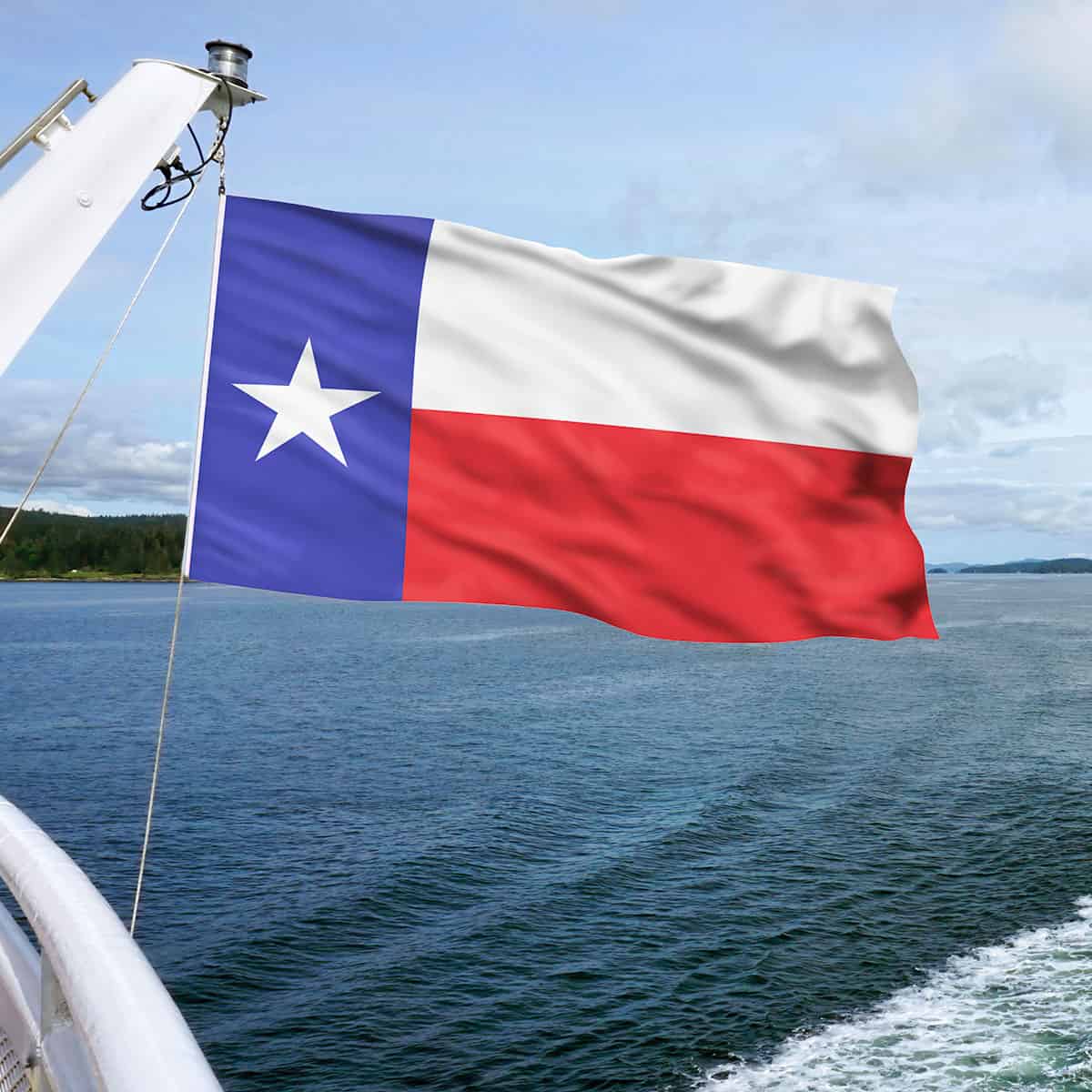 Montgomery, Texas
From the official website:

"The City of Montgomery is one of the oldest cities in Texas and many consider it to be the "birthplace of the Texas flag". Despite its relatively small footprint of one square mile, more than 30,000 people in the surrounding communities consider themselves residents of the historic town of Montgomery."
Visit website
Battlegrounds
Mission Espíritu Santo
Restored in the 1930s, Mission Espíritu Santo offers visitors a glimpse into Texas history. Inhabited by early Native Americans and then Spanish explorers and settlers, this colonial-era mission would become a notable battleground in the Texas Revolution. Attractions include a gorgeous chapel, fishing, kayaking, and camping.
Location:
108 Park Rd 6
Goliad, TX 77963
Hours:
Open daily
8 am - 5 pm
Admission:
Adults - $4
Children - FREE
Visit website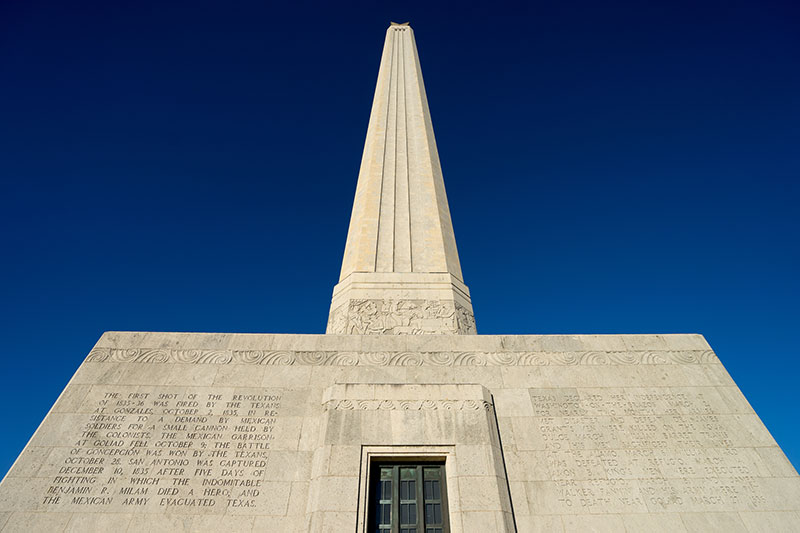 San Jacinto Battleground
From the Texas Historical Commission: "The famous Battle of San Jacinto that brought TEXAS its independence was fought on this site. Because of the great importance of the Battle to the course of history, the Battleground is of state, national and international significance, a fact that is attested to by the site's National Historic Landmark status."
Location:
3523 Independence Pkwy S
La Porte, TX 77571
Hours:
Open daily
9 am - 6 pm
Visit website
Other Historical Houses and Structures