In Memory Of A Sweet Family
We were forced to say goodbye to a very sweet local family this week, the Sedlmeir's.  The loss of this family of four has deeply saddened this entire community and our thoughts and prayers are with the extended family and friends who are grieving.  Today, Madeley Ranch Elementary remembered them with a beautiful balloon release that the children will never forget.   Thank you to all the staff and volunteers who helped blow up all of those multi-colored balloons last night and today.  

Balloons were released at 8:40 am this morning, 9/23/15 in memory of the Sedlmeier family.  The extended family was in attendance and we hope this delivered a small bit of comfort to them.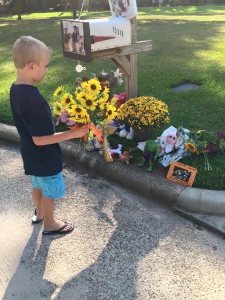 Thank you Ashley and Mike Mastel, for letting us use your photos of Grady and the balloon release.  Grady was a friend of Harley and he delivered sunflowers yesterday to their home.